Magnetic Paint
You can turn any surface into a magnetic board through the Cromas magnetic paint.
Through our magnetic paint, any surface in wood, metal or plastic becomes a ferromagnetic surface which is able to attracts magnets.
You can achieve a magnetic blackboard effect through a thin coat of our magnetic paint thanks to its composition of ferrous particles. The magnetic power can vary according to texture, weight and size of the surface you want to paint. In order to achieve a good ferromagnetic effect, we recommend to give two or three coats of paint both through spray technique (nozzle 1,8-2,5 mm) or through roller or brush techniques.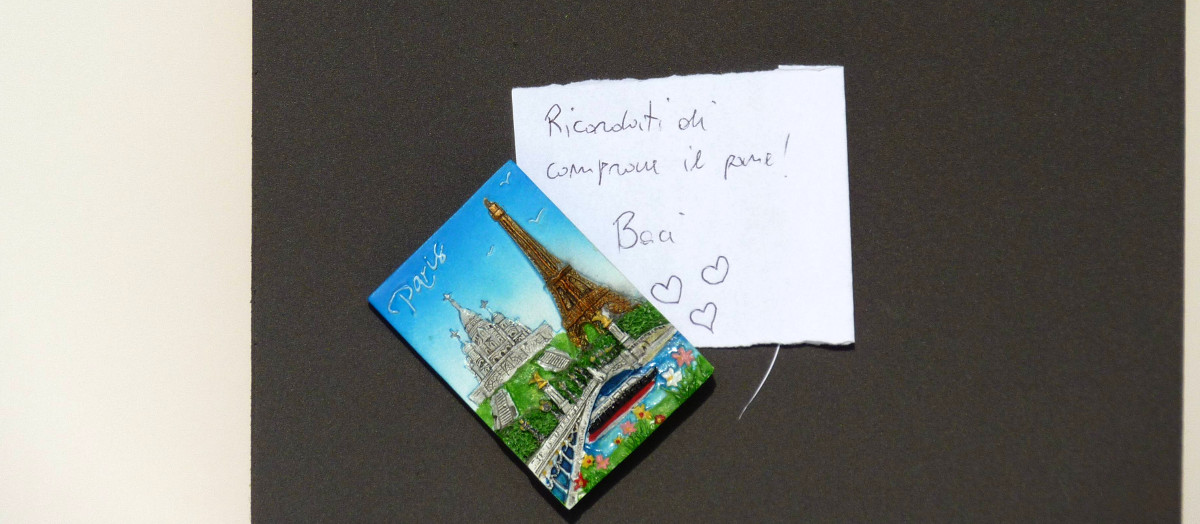 Ferromagnetic paint effect
The above image shows our magnetic finish applied on a MDF panel. 80 micron of dry thickness are enough to achieve a ferromagnetic surface that can hold pieces of paper just as the common magnets used on refrigerators. According to the kind of surface, you may want to apply more coats to improve its magnetic power.
As the paint dries, it gets a typical "magnetite" color – dark grey. A formulation included of a colored base would decrease the magnetic power. After drying a thin layer of top coat with the color of your choice can be applied.
How you can achieve a magnetic surface
Cromas magnetic paint is available in two versions:
A solvent-based acrylic magnetic paint for industry and handicraft. The application through spray technique is effective also on large surfaces. Magnetic paint can be applied on design objects, furniture, accessories in interior design. It is possible to use magnetic paint to customize indoor and outdoor advertising.
A water-based acrylic magnetic paint for artisanal use, exhibition stands and private users. This paint is indicated for applications on walls through roller or brush. If you use roller or brush, please make sure to give more coats of paint in order to achieve a good magnetic power.
Important note: through the Cromas magnetic paint you can create a ferromagnetic surface with blackboard effect. Though, in order to hold pieces of paper – just like thefridge magnets – we advice the use of good quality magnets.