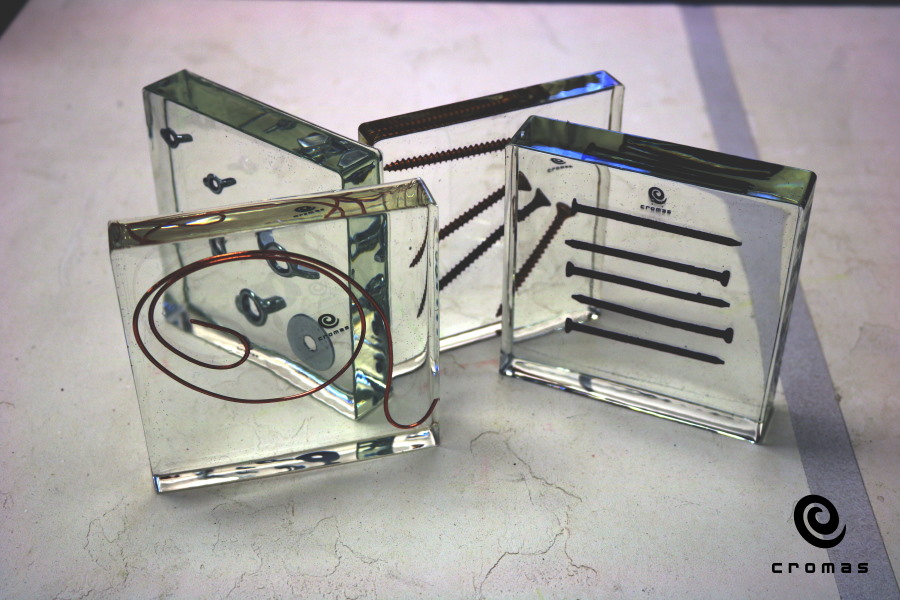 An introduction to the world of Cromas crystal clear resins made for professionals and manufacturers
This captivating material allows professionals to spark their creativity to create a visable connection between different materials like wood and metal. A very versatile material that can be formed as a clear transparent – or in many colours – and in different thickness and shapes.
The crystal clear resin is beautiful by itself, but the user can also insert various materials into the resin to create a solid and transparent surface or object. The resin can also be applied as a thin layer over a finished surface to add a unique beauty and durability to the final work.
The clear transparencyof the dried resin showcases the objects or materials encased in the resin, making it possible to see what could only be imagined before.
Through the play of light and shadows with the suspended materials this resin offers many different creative options.
In this section, we present the new Resins developed by Cromas. This state of the art product was designed for manufacturers and professionals, who in the past, were limited to resins available from a DIY store.
Our range of transparent epoxy resins have been extensively studied to meet the requirements for custom manufacturing and series production. The range of products make it possible to choose the most suitable resin for the level of performance or resistance required.
Given Cromas Paints experience in the special paints sector, these Resins are the result of research and experimentation in our primary business areas of custom and mass furniture production.
We kindly invite you to contact our technical staff to find the best solution for your project or series production.